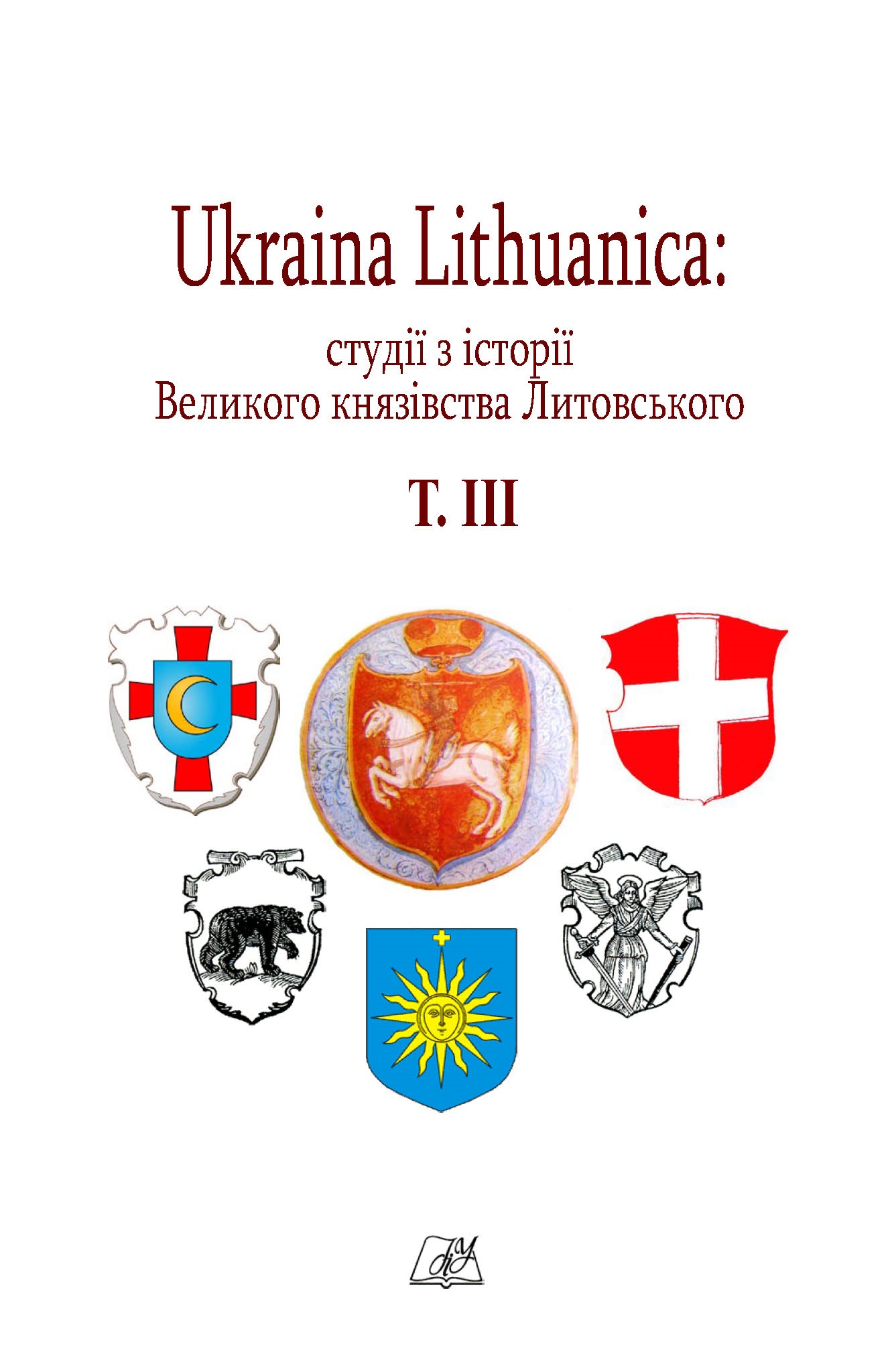 The Attitude of the Lithuanian Elite to Deploying of the National Liberation Struggle in Ukraine in the First Part of 1648: Formulation of the Problem
Oleksandr Juga
Candidate of Historical Sciences (Ph.D. in History), Senior Lecturer,
Kamianets-Podіlskyi National Ivan Ohiienko University (Ukraine, Kamianets-Podilskyi),
This email address is being protected from spambots. You need JavaScript enabled to view it.
DOI: https://doi.org/10.15407/ul2015.03.126 
Abstract
This research work appears primarily to deal with the Lithuanian elite's attitude to Cossack uprising in the beginning of 1648. In particular it is noted that unlike the crown politicians who explained Cossacks' continuous preparation as the Black Sea campaign, the elite of the Grand Duchy of Lithuania could not thus explain the actions of Cossacks, as they knew the decision of the Seim (Parliament) in 1646 banning the preparation to the war against Turkey and the Cossacks' involvement in it. However, representatives of the Lithuanian political elite actually did not know that the King after 1646 did not abandon the plan «Turkish war» and secretly continued to work hard to find the support of Cossacks.
The Grand Duchy of Lithuania did not take much concern regarding to the information about explosion of Cossacks' rebellion, the explanation for this perception, in author's opinion, should be traced back in the Union of Lublin in 1569. According to its conclusion Ukrainian lands being the part of the Grand Duchy of Lithuania came actually under the rule of The Crown. Therefore, the perception of the Lithuanian ruling elite was the following within inherited lands The Crown had the hassle associated with maintenance issues to keep territories in the correct order (obedience). Thus political elite did not care a necessity of their suppression until the Cossacks' uprisings did not apply directly to the territories of the Grand Duchy of Lithuania. Moreover, after the King's death in May 1648, Lithuanian political elite were interested in Ukrainian events in the context of their impact on the weakening of The Crown of its own; they attempted to concentrate the power in the territory principality within their own hands.
Since late June the situation had changed, as Lithuania directly confronted with the «rebellious Cossacks», they began to join the local population. It was the very time, as sources confirm, when Lithuanians began to worry about «rebellion all over Ukraine».
Keywords
Rich Pospolita, the Grand Duchy of Lithuania, Cossack Ukraine, elite, «Ukrainian problem».
References
Archiwum domu Radziwillow. (1885). Scriptores rerum polonicarum, (8). Krakow. [in Polish].
Biernacki, W. (2006). Powstanie Chmielnickiego. Działania wojenne na Litwie w latach 1648–1649. Zabrze. [in Polish].
Blaszczyk, G. (2007). Współczesne spojrzenie na stosunki polsko-litewskie w latach 1569–1795. Rzeczpospolita w XVI–XVIII wieku. Państwo czy wspólnota? Torun, 107–128. [in Polish].
Kochowski, W. (1840). Historya panowania Jana Kazimierza, (1). Poznan.
Listy Stanislawa Zolkiewskiego. (1868). Krakow. [in Polish].
Mazur, K. (2006). W stronę integracji z Koroną. Sejmiki Wołynia i Ukrainy w latach 1569–1648. Warszawa: Neriton. [in Polish].
Mytsyk, Yu. (2012). Dzherela z istorii Natsionalno-vyzvolnoi viiny ukrainskoho narodu 1648–1658, (1). Kyiv. [in Ukrainian].
Opalinski, E. (1995). Kultura polityczna szlachty polskiej w latach 1587–1652. Warszawa. [in Polish].
Radziwill, A. (1980). Pamietnik o dziejach w Polsce, 1647–1656, (3). Warszawa. [in Polish].
Romanski, R. (2012). Wojny kozackie. Warszawa: Bellona. [in Polish].
Smolii, V., Stepankov, V. (1995). Bohdan Khmelnytskyi. Sotsialno-politychnyi portret. Kyiv: Lybid. [in Ukrainian].
Stepankov, V. (2009). Velyke kniazivstvo Lytovske u politychnykh planakh Bohdana Khmelnytskoho (1648 – persha polovyna 1649). Ukraina Lithuanica: studii z istorii Velykoho kniazivstva Lytovskoho, (1). Kyiv: Instytut istorii Ukrainy NAN Ukrainy, 89–96. [in Ukrainian].
Wisner, H. (1976). Dzialalnosc wojskowa Janusza Radziwilla, 1648–1655. Rocznik Bialostocki, (XIII), 53–109. [in Polish].
Wisner, H. (2000). Janusz Radziwill 1612–1655, wojewoda wilenski, hetman wielki litewski. Warszawa. [in Polish].
Wisner, H. (2000). Janusz Radziwiłł wobec wybuchu powstania 1648 roku od smierci Władysława IV do elekcji Jana Kazimierza. Ukraina v Tsentralno-Skhidnii Yevropi, (1). Kyiv, 182–196. [in Polish].
Wisner, H. (1976). Wojsko litewskie pierwszej połowy XVII wieku. Studia i materiały do historii wojskowosci, (XIX, 1), 61–138. [in Polish].

Wojcik, Z. (1989). Wojny kozackie w dawnej Polsce. Krakow. [in Polish].